Things have been pretty crazy since the last time I posted on here. But I can say that it is getting better and I have some cool stuff coming. For today, though, I want to talk about a movie that has been, is currently, and will probably still be talked about for a while, Marvel's "Black Panther". Seeing this movie is one of the main reasons why I am even able to write right now.
As of today, Monday, I have seen the movie twice and might see it a third time, but mainly to help some others see it if possible. I hope I will be able to properly communicate to you guys how special and important this movie is to me and anyone who felt something after seeing this film. There has so much excitement and empowerment attached to the release of this movie. I want to share with you as much as I can, without any spoilers for those who haven't seen it, or course 🙂
The Movie
This is the Synopsis of the movie courtesy of Marvel (www.marvel.com):
'Marvel Studios' "Black Panther" follows T'Challa who, after the death of his father, the King of Wakanda, returns home to the isolated, technologically advanced African nation to succeed to the throne and take his rightful place as king. But when a powerful old enemy reappears, T'Challa's mettle as king—and Black Panther—is tested when he is drawn into a formidable conflict that puts the fate of Wakanda and the entire world at risk. Faced with treachery and danger, the young king must rally his allies and release the full power of Black Panther to defeat his foes and secure the safety of his people and their way of life.'
The movie itself was directed by 31 year old Ryan Coogler, who also directed 'Fruitvale Station' and 'Creed' where he began working with Michael B. Jordan. Michael plays "KillMonger", the main antagonist for the Black Panther who is played by Chadwick Boseman. Those two are just a small piece of the bigger puzzle that makes up this amazing cast. I want to say that I was already a fan of Chadwick and Michael before this movie so you can imagine how excited I was to see them on the screen together.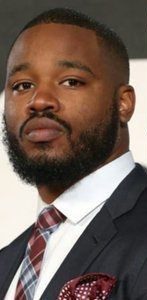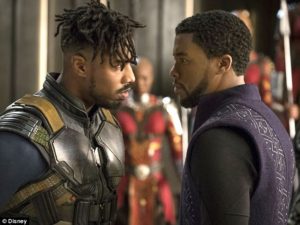 This cast also includes some beautiful and strong African American women who deserve the love and shine they deserve and more. Some of the women characters are a the Black Panther's mother, played by Angela Bassett; sister, played by Letitia Wright; Love interest, played by Lupita Nyong'o; and his Army General, played by Danai Gurira. Their presence is so powerful and beautiful in this movie. And they still aren't the only women who help to make up this story.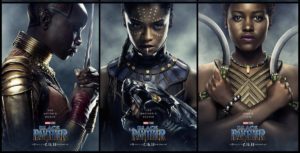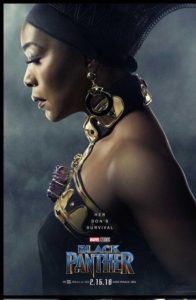 The Soundtrack
Ryan Coogler hand-selected Kendrick Lamar to produce and curate the soundtrack for this film, saying that Kendrick's 'artistic themes align with those we explore in the film'. The music could easily stand alone but when paired with this movie, it shines so much brighter. The artists featured on this album were perfect for painting the picture of Wakanda and its characters. I definitely have some favorites.
Some of my favorite songs are: "All the Stars" with Kendrick and SZA, "X" with Schoolboy Q, 2 Chainz, and Saudi, "The Ways" with Khalid and Swae Lee, "I Am" by Jorja Smith, and "Pray For Me" featuring Kendrick and the Weeknd. Don't get me wrong, though, the whole album is amazing. When certain songs hit during particular moments in the movie, I definitely got chills. It just elevated the movie and its scenes to another level which was genius.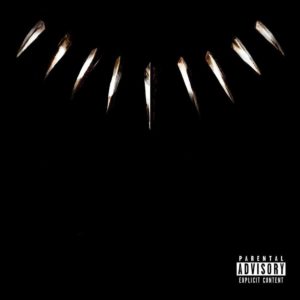 *Also, don't forget to check out the Original Score for the movie which brings you all of the amazing, original sounds and music from the film*
The Movement
All of the hype leading up to this was more than what normally surrounds a big, blockbuster comic book movie. With this particular movie, you have a rare African American main character, a mainly African American cast, and a young African American director. So, you had generations of African Americans, comic fans or not, excited to see this movie. Not to mention the excitement coming from the many races and genders who make up the generations of actual comic book fans; or those who were maybe just curious because it already looked different from everything else that had been out.
One of the biggest achievements of this film, though, is the fact that young African American children could actually see themselves in the characters. I shouldn't have to tell you the kind of characters that we were all used to seeing; many of them not shown in the most positive light. Now, we get to see them walk up to the movie poster and say "I'm this one… No I'm this one… She has hair like me…" I'm actually fighting tears because I am so happy for them to have this in their life, especially with everything that is going on in our world right now.
Final Thoughts!
For one thing, I may brighter skinned and confuse many who seem to care so much about "what" I am. I do have African in my blood and have always been proud of that, whether it's obvious to others or not. And when it comes to being proud of Ryan Coogler being a part of bringing this movie to life; it's more than him being an African American, but he is my age and breaking ground in the creative space. Being a young, African American female who is trying to find my place in that creative world, it fills me up with so much pride and motivates me to keep going.
I am also proud of Chadwick, Michael, and the beautiful women of this cast. Other than showcasing their beautiful complexions to the world, they got to play characters they haven't always had a chance to play. And I know that for Michael, it was the first time we got to see him play a villain like that. He was brilliant as "KillMonger"; I both loved and hated him because he played that character so well.
For More on Black Panther and some of the main characters!