I've already posted a quick, initial reaction to Monsta X's new album Shape of Love on social media. But I really wanted to go into more detail of the songs, the music video, and my thoughts on everything. Also, I got to watch their FanCon online about a week or so ago, so I wanted to talk about that too. Other things have been going on with other groups, but I want to show a lot of love to Monsta X right now 🙂
Shape of Love… My Review!
We have to start with the lead single "Love". Joohoney mentioned how this song is supposed to be, kind of, like a "continuation" to "Gambler" from their "One of a Kind" album, and I see it. This track has such a funky R&B flair to it, and it's captured a lot of people, especially me 🙂 And I am obsessed with the music video, from the wardrobe, shiny effects, and just overall sexy visuals.
Every song on this album is amazing. Joohoney and I.M were very involved in the writing and arranging of most of the songs on this project. They even collaborated with Moroccan Dutch DJ and record producer R3hab for the track "Burning Up", an uptempo/ dance vibe. My favorite, though, has to be "Wildfire" from Kihyun's bridge to Hyungwon's verse/ chorus, and Joohoney's verse.
Follow Them!
Twitter @OfficialMonstaX
Instagram @official_monsta_x
Youtube: www.youtube.com/channel/UCqHnXpWR6PGgkIGrPp_aLxg
My First Online Fan-Con Experience!
I was so happy that they made it easier to purchase online streaming tickets for Monsta X's Fan Con event. It's basically an anniversary event they have every year to connect with their fans and perform for them. My pass was the for the final day and I had to get up around 2am CST for it, but it was totally worth it! The theme for this year had the guys playing "super spies".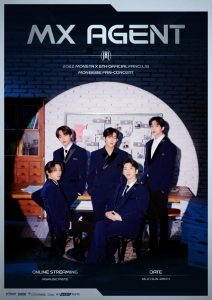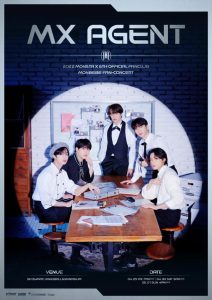 Their outfits were stunning, with them showing more skin than they normally do. The skits in between stages were so cute and fun to watch. They performed a lot of their older songs, like one of my old favorites "Blue Moon". And of course things got really emotional at the end, which is expected since they hadn't performed in front of their Monbebes like that in a long time.
And Shownu, who is currently serving out his military enlistment, was able to go to the show 🙂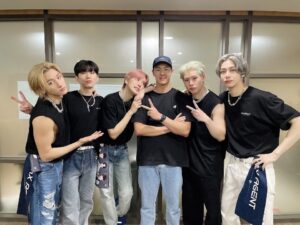 Final Thoughts!
After some recent things, I REALLY want to get back to how I started all of this. I want to just be the Fan Girl and enjoy my favorite things, people, and music. It's more than just getting exposure on other outlets. It's about the music and other passions we all have that make us happy and inspire us.
With that said, check out my latest Youtube video. It's a short unboxing for Monsta X's recent album… Hope you enjoy it! 🙂
Don't forget to Follow Me for More!
Facebook: www.facebook.com/muzikjunqie
Twitter @muzikjunqie
Instagram @muzikjunqie
TikTok @muzikjunqie
Pinterest @muzikjunqie
Red Bubble Shop: Official Muzik Junqie Merchandise