Meg Thee Stallion is one of my favorite female artists but for some reason, I have not done more articles about her and her music. I do post about her a lot on social media, but that's been in. And I am a little "late" with this review for her latest album Traumazine, but I was going make this got up no matter what or when. So, I hope you guys keep reading and check out my thoughts on what is, in my opinion, her most raw and emotional album yet.
Meg Thee Stallion
Megan Thee Stallion is a rapper, singer, and songwriter out of Houston, Texas. She is signed to 300 Entertainment and is the first female rapper on the label. She dropped her first full-length project, Fever, back in May of last year (2019). That project definitely was received well and she even landed on XXL's "Freshmen Class" list. And I'm pretty sure, if you've been on social media, you've definitely seen and heard the phrase "Hot Girl Summer"/ "Hot Girl" more than enough…
For more on one of my first posts about Meg, check the link below…
http://muzikjunqie.com/meg-the-stallion-suga/
Other than me identifying with her, being a Southern girl myself, but she is really showing us the type of black girl some people don't realize exist. Meg is heavy into gaming and anime, much like a lot of other black girls, including myself, but it's not something that's "popular". Those industries are still heavily male dominated, but to see a beautiful, talented, and educated black woman share that side of her, is inspiring.
*Meg on the cover for PAPER Magazine cosplaying as a character from the Anime My Hero Academia as well as her with nail designs inspired by the Anime Jojo's Bizarre Adventures*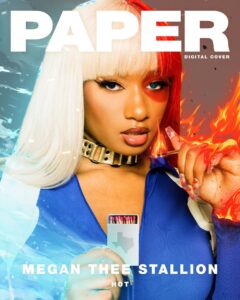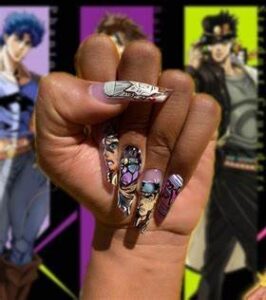 Traumazine… My Review!
Meg Thee Stallion will forever be the soundtrack for me when I need to be on my confident/ cocky sh** lol. And right off the bat, Meg came in swinging on "NDA".
"I ain't perfect, but anything I did to any of you n****, y'all deserved it (Y'all deserved it)

You see me in that mode, don't disturb me when I'm workin' (Yeah)

Lil' b***, you better back up, don't know what be in these purses (Blaow)

And I ain't say, "Excuse me," 'cause I did that sh** on purpose

Yeah, you see a star up in this b*** (A star up in this b***) "
Keeping that same energy, "Not Nice" is another one of my favorite tracks, where her raw rapping skills shine. Also, I cannot forget to mention the standout, club/ dance track, "Her", along with the dope music video that goes with it.
When it comes to the features on this one, I love "Budget" with Latto, "Scary" with Rico Nasty, and "Star" with Lucky Daye. And I don't mind "Sweetest Pie" with Dua Lipa, which gives a more Pop sound, compared to the others. Now there are some male rappers that I still cannot get into, so her collaborations with Key Glock, Pooh Shiesty, and Future, aren't my favorite tracks. Don't get me wrong, though, Meg ATE on every song, but I could do without those features.
And we know she is having fun with her more sexually charged tracks, as well as sharing her Houston roots on "Southside Royalty Freestyle". But it's songs like "Anxiety" that really stand out and grab my attention. Where she shares the fact that she struggles and has bad days too. We know she's tough and strong, but seeing her softer, vulnerable side is what really shows how real, honest, and amazing she is, in my opinion.
Final Thoughts!
Seeing her live is definitely on my bucket list. I don't know about paying a few racks for a meet and greet (lol), but I would love to experience her energy up close. I'm looking forward to seeing and hearing more from her. And maybe see her do more Anime and K-Pop collaborations 😊
Follow Her!
Twitter & Instagram: @theestallion