This is another post that I've been kind of holding on to. And the fact that I am just talking about Tom Hardy is kind of sad. I have been a huge fan of this beautiful blue-eyed man since his role as Bane, one of the more extreme villains, in Batman – The Dark Knight Rises (2012). I had seen him in a couple of other things but didn't know who he was at the time.
Tom Hardy… The Man Behind All of the Masks
First, let me explain that caption above LOL. For those of you who may not be too familiar with Tom and his many movie roles, a lot of his characters have a mask; for example: Bane (Batman – The Dark Knight Rises), Max Rockatansky (Mad Max), Farrier (Pilot – Dunkirk), and Eddie Brock/ Venom (Venom). Also, he has played such a variety of characters with even more varying personalities. He's almost unrecognizable in some roles but that's a large part of what makes him such an amazing character.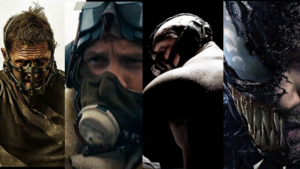 Tom comes to us from London, England (UK) and definitely has a ton of work under his belt. His personal struggles, his involvement with charity organizations, his love for animals, and his tough but sweet demeanor make it hard to NOT love him. Back to his movie roles, though, his breakout role would come in 2010 where he plays Eames in Inception. That is just one of many more breakout roles for him in his career so far. Of course, I have some favorite movies and characters.
As of right now, based on the movies and series that I have seen, some of my favorites are: Tuck (This Means War), Forrest Bondurant (Lawless), Bane (The Dark Knight Rises), Bob (The Drop), Reggie & Ronnie Kray (Legend), James Delaney (Taboo), and Eddie Brock/ Venom (Venom). Each character is so different and pulls something different out of Tom. This Means War was more of a romantic comedy while Lawless, The Drop, and Legend were definitely on the more aggressive side. But The Drop also showed a softer side due to the adorable Pitbull puppy co-star, showing his real love for dogs.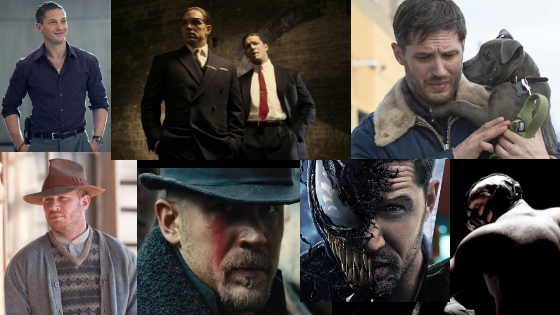 Venom… Final Thoughts
So, I have been waiting for this Venom movie for a long time, being that I am both a comic book lover and fan of Tom Hardy. I saw it the weekend it came out, in 3D at the IMAX theater. I definitely wouldn't mind seeing it again to see if I catch anything that I may have missed the first time. But, even after seeing it once, I feel that I can give you guys a legit opinion.
It was no Black Panther but I really did enjoy it. And to be honest, I'm just glad that they upgraded Eddie Brock and Venom from that lame version they had in Spiderman 3 (sorry, not sorry). My favorite thing about this movie was Tom's portrayal of Eddie Brock and how great he portrayed the relationship between Eddie and Venom. They are setting up to introduce Carnage, even though it looks as if people are apprehensive about that upcoming portrayal.
Follow Him!
Instagram @tomhardy