You guys know that I usually do music reviews on the Tuesdays and usually right after an album is released. I have been pretty busy lately but I also still want to play around with my post schedule but it'll never get too crazy or difficult to follow. Some albums take longer for me to grasp, like this one, and I want to put out a quality post for you. This record has been pretty fun for me to write about though.
Mike Posner
I've already done a post to Blackbear so I want to get you guys familiar with Mike Posner. Mike is a Grammy nominated singer/ songwriter, poet, rapper, and music producer. He has written songs for a number of fellow artists such as "Sugar" by Maroon 5 and "Boyfriend" by Justin Bieber. He has also worked on songs for Talib Kweli, Pharrell Williams, Big Sean, 2 Chainz, Wiz Khalifa, Nelly, TI, Snoop Dogg, Nick Jonas, Avicii, Austin Mahone, and more. About a month ago, he released his first book of poetry, Tear Drops & Balloons (something I hope to purchase soon).
Mike started out as a record producer, working with Big Sean initially. As an artist, he released a few mixtapes before dropping his debut album in 2010 called 31 Minutes to Takeoff. His first 3 singles off of that album charted pretty easily. After his debut album was released, he started working on his second studio album named Sky High and released the single "Looks Like Sex" digitally in December of 2011.
However, with the success of his first album, Posner began to feel uncomfortable with being in the spotlight and struggled with depression. He took a break from making music to write and produce songs for other artists. After dealing with that, he did some touring, even with the cancelling of some projects, and dealing with a new record label. All of that, along with a new album called At Night, Alone that was released last year, brings us to the present.
What is Mansionz?
Mike Posner and Blackbear have been friends for a minute and have worked together before so this collaboration doesn't come as much of a surprise. This album is a soulful hip hop project with spoken word influence. Mansionz is currently signed to Island Records and has released three singles: "Stfu" (ft. Spark Master Tape), "Rich White Girls," and "Dennis Rodman (ft. Dennis Rodman)". This debut album by these two musically talented friends was released on March 24th. It features appearances from Soren Bryce, G-Eazy, Cyhi the Prynce, Snooze God, Spark Master Tape, and Dennis Rodman.
I know that artists collaborate on albums all the time but there is something so unique about this one. I don't know if it's because I love them and their styles so much. It could be the fact that it has such a strong poetic vibe to it. But whatever the underlying reason is for me, it's definitely a very unique music collaboration and deserves to be heard. Trust me, don't assume anything when it comes to these two.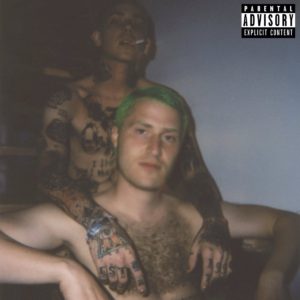 My Review
The simple instrumental opening called "Snoozefest" is beautiful. Music like that always seems to give me goose-bumps, in the best way. Then it goes into "My Beloved" which is opened with an opera like female voice singing before Mike Posner comes in and kills it. Blackbear comes in with the chorus and I'm in love. I already love his voice so this was just so amazing and it's just the beginning of this album.
Then we get to one of my definite favorites, "Stfu" featuring Spark Master Tape. This song is so real and relatable. Some of my other favorites are "Nobody Knows" and "Gorgeous". These 3 songs are a little similar due to the lyrical content but they caught my attention the most. I also love Cyhi the Prynce's verse on "White Linen".
Now, "Dennis Rodman" that actually features THE Dennis Rodman is an insane song and I do love it. If you don't know who Dennis Rodman is then you won't really get the significance of the song. But just know that Dennis was and still is a very unique individual who defied norms and did his own thing, no matter what anyone said or thought. You have to admire that and I know Mike and Bear definitely do.
Before I finish up, if you really want to hear the raw, poetic side of this album, go to the track called "I'm Thinking about Horses". It's simply genius and 100% real and honest. I have so much love and respect for this album as a whole. I really do hope you guys give this album a chance. It'll probably be different from most music you've heard up until this point but I promise you that it's worth a listen.
Check Out Their Video for "Dennis Rodman" Below…
Check Them Out!
Official: www.beartrap.la
www.mikeposner.com
Twitter & Instagram @iamblackbear
@mikeposner
www.soundcloud.com/iamblackbear