Happy Monday! The fact that this is the first time I am mentioning Michael B. Jordan as my an crush is so insane to me. I guess I was just waiting on the perfect time to do it, since he has been doing a lot and does have several things coming up. Initially I was going to explain why I was so heartbroken after I missed my chance to see him and possibly meet him at the Essence Festival. After he has pretty much been "attacked" by black women on social media due to the lack of black women around him when it comes to his love life, I felt the need to share my thoughts on that topic as well.
Can Michael B. Jordan Live?!
I'm not sure when or where everything really started to spiral out of control, but I do remember seeing a lot of those comments under a ShadeRoom post (of course) talking about Michael B. Jordan hanging out on a boat in Italy with some Caucasian women with no African American women in sight (given the name "Becky's Only Yacht Party"); then reposted by similar pages. Other than the fact that its media sources like that who get paid to start or encourage drama, what does his love life have to do with you (us)?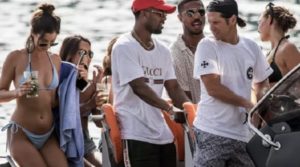 Even though this isn't the first time that Michael has been accused of not dating black women (along with other things people have come after him for), he did come out to respond to some of it. He stated that he loves all women and admitted that he's human so a lot of what was said did get to him. But is his love life really any of our business, regardless? Yes he's a celebrity and it tends to come with the territory but who he's dating doesn't have anything to do with what most of us love the most about him; which is his personality, intelligence, and talent, to name a few.
One of the things that I really don't like is the statement "black women don't f**k with Michael B. Jordan anymore". First of all, ya'll don't speak for ALL black women; a lot of us still love and support him. But instead of worrying about what white girl Michael B Jordan is dating, why don't ya'll come for the black men who are out there disrespecting and/ or assaulting black women on a regular basis and getting away with it, hmm? Please keep that same energy for more important issues that affect our community; if Michael becomes disrespectful about it then be my guest, but he hasn't so… LET IT GO!
Only Positive Energy Over Here
Okay, now that I got that out of the way, and hopefully you guys are still reading at this point. Let's focus on the fact that Michael's career has blossomed even more after Black Panther. He has also been adding several new projects to his portfolio for both in front of and behind the camera (check them out below). And I'm really excited for Creed II to come out in November.
Wrong Answer (announced)
Damany Lewis
Raising Dion (TV Series) (pre-production)
Mark
– Episode #1.1 … Mark
Just Mercy (pre-production) 2020
Gen: Lock (TV Series) (post-production) 2018
Julian Chase (2018-) (voice)
Creed II (post-production) 2018
Adonis Johnson
(Above info courtesy of www.imdb.com)
*Possible Spoilers Ahead*
Let me not forget to mention that his production company, the Outlier Society, is up for 5 Emmy's for Farenheit 451. When it comes to Michael's new roles, however, I hope he stays alive. For those of you who have seen a lot of his movies and TV roles, he dies A LOT and a girl can only take so much of watching her fave die like that. You can say that I'm too attached but the boy is just good, so it pulls at my heart strings when something happens to his characters.
Final Thoughts!
Michael B. Jordan doesn't know me or that I even exist but all of the backlash, especially from women who all wanted a piece of him before they got a better look at who he has been spending his time with in those pictures, got to me. None of us would want our lives to be picked apart like that, especially if it came to who we may be interested in. Maybe it's because I'm in a relationship (my bf enjoys Michael's movies with me btw) or I'm just too grown (same age as Mike, actually) to care who some of my favorite people are dating. I respect and appreciate Michael for the person I have seen and read about for the last several years, and hopefully one day I will get to tell him that in person.
Follow Him!
Facebook: www.facebook.com/michaelbjordan
Twitter @michaelb4jordan
Instagram @michaelbjordan