So, today I want to invite you guys to check out a new track from someone I have written about at least a couple of times before, GStampz aka Gboogie, "Mississippi's Mixtape King". Doing posts or reviews about artists most of you probably already know and love is cool, but, to be honest, posts like this & the last one that I did, is why I do it. One of the main missions of this blog is to introduce you to a new artist, who are doing their thing, mostly on their own, and just want people to hear their music. I want you, my beautiful readers, to step away from things you may already listen to, and open up your ears to someone you may not have heard much of otherwise.
Official Press Release (Lateefah McGhee):
GStampz, who goes under the name "Mississippi's Mixtape King" Gboogie was one of the hottest personalities in his city in the early 2000s, has emerged with the brand new feel-good anthem "Celebrate Today". The song, described by one music critic as "If the rapper Fabolous, had done Pharrell's "Happy", is sure to light up all of 2019. The hip-hop/pop hit combines jazzy beats, a classical rap flow, and EWF-inspired background vocals. GStampz has created a song that's perfect for any holiday, birthday, or just a regular day, as he implores listeners to celebrate the moment of life they've been given. The song has inspired many videos online already from people of all backgrounds and ages. The message of love and cherishing the moment on "Celebrate Today" will never go out of style.
My Thoughts!
Right away I get that old school, feel-good vibe; which already sets him apart from a lot of the music, Hip Hop especially. As usual, he has a positive message, living for today. The timing of this is actually pretty perfect because I've been struggling with just being in the moment; also it's great for this time of year — Holiday season (whether you're happy it's here or not LOL). But, if you guys haven't learned by now, I am a sucker for a feel-good song with a great message 
These particular lyrics stood out to me…
"I know I'm not perfect and I got bad habits… But when it comes to music, I still believe in magic"
Check Out the Song Below & Let Me Know What You Think!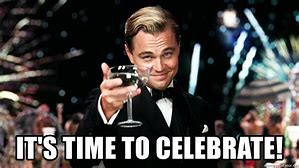 Also, check out the last write-ups that I did featuring GStampz:
Artists, You Should Get Familiar With! Hip Hop Edition!
A Little Something Different to Add to Your Playlist to Kick Off February the Right Way!
Follow Him!
Twitter @GStampz
Instagram @gstampz