Happy Monday! So… last night was the 60th Annual Grammy Awards that aired on CBS live from Madison Square Garden in New York City. I haven't been that fond of award shows and lot of them are corny and rigged, as far as the awards given out are concerned (in most cases anyway). But I still had some favorite moments that I want to tell you about.
Top 5 Favorite Performances
1. I have to start with Kendrick Lamar's opening performance. He always makes a statement and he definitely did that last night. U2 came out to sing a little and Dave Chapelle interrupted a couple of times (part of the performance), saying "… The only thing more frightening than watching a black man being honest in America, is being an honest black man in America…". Kendrick is such a powerful and captivating performer, always has been.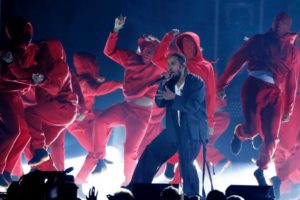 2. There were a couple of performances that I was curious about, and this was one of them. Logic, Alessia Cara, and Khalid came out with Suicide Survivors for their song "1-800-273-8255" which deals with suicide awareness. Logic was amazing as always, and I was really proud of Alessia and Khalid for their beautiful voices. But what was really beautiful was Logic's speech as the song was ending.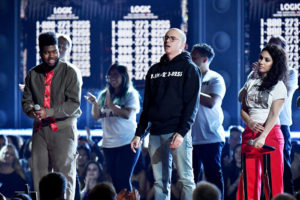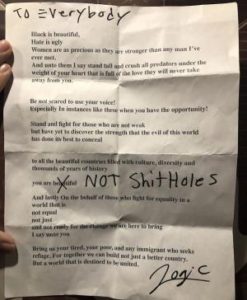 3. Even though she did not win any Grammy's, SZA did an awesome job for her first ever Grammy appearance/ performance, doing her song "Broken Clocks". She has plenty of time to get nominated again and win something for her music. Even though it took longer for me to love her and her music, I respect her hustle, and I have always loved her style. She has never been afraid to be herself and that's something that makes her special and loved by so many.
4. The whole 'Time's Up' movement is currently happening in the world right now, fighting against sexual harassment/ mistreatment of women in the workplace especially. Kesha performed her song "Praying" with help from Cindy Lauper, Andra Day, Camilla Cabello, and Bebe Rexha. Now, it wasn't the strongest performance from her, vocally, but it was definitely the most powerful in emotion and delivery. I think everyone was fighting tears, me included.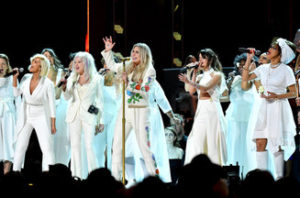 5. Last but not least, I have to talk about Bruno Mars ft. Cardi B and their performance of "Finesse". With all of the seriousness from the other performances, it was nice to see something fun and up-tempo. Cardi did so great up there for her first time being on the big Grammy stage. Bruno and his dancers killed it as always, especially that little dance break.
Inspirational Moments
One of my favorite inspirational moments was Alessia Cara's speech when she won for Best New Artist. She wanted to acknowledge all of the "real" talented artists out there who don't always get mentioned because of "popularity contests". She mentioned how there's room for everyone to shine and get that platform. There has been some hate with her win because others think she's not new enough but let's remember that she has been cheated out of a Grammy before.
Another inspirational moment is Janelle Monae's speech about the "Time's Up" movement. The movement fights for equal opportunity, pay, and access to all of the same resources as men. It was such a beautiful and powerful statement, encouraging everyone to stand together and support each other, while we fight for equality. Then she introduced Kesha and her lovely supporting cast for their breathtaking performance of "Praying".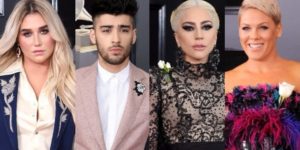 Other Interesting Moments
Even though it wasn't that long, I was happy to see a Louisiana native, Jon Batiste perform with Gary Clark Jr. for their tribute to Chuck Berry and Fats Domino. It was also pretty cool to see Luis Fonsi and Daddy Yankee perform "Despacito". Then we have DJ Khaled, Rihanna, and Bryson Tiller's performance of "Wild Thoughts". It was all over the place but it was still cool to see all of them on stage together and Rihanna was getting it! 🙂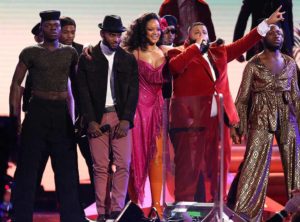 Another moment is when they did the skit for finding a voice to do the reading of the book "Fire and Fury" (about Donald Trump). They have several celebrities, including Snoop Dogg and Cardi B, but the best was when Hilary Clinton popped up at the end (Iconic!). Before I forget, there was a performance that shocked and impressed me; Elton John performing with Miley Cyrus. They sang "Tiny Dancer" and it sounded really good; Elton looked glamorous as always and Miley looked beautiful.
Final Thoughts!
As much as I usually don't enjoy sitting down and watching award shows, I was not that mad at this year's Grammy's. I think I'm more upset at the people who are hating on some of the winners from last night. I am getting tired of hearing about Beyonce and Jay-Z. I get that Jay went 0 for 8 last night and probably should have gotten at least one but that doesn't mean that the other artists didn't deserve it either.
Just because an artist doesn't win an award does not take away from whatever they have achieved in their careers. Yes it is the ultimate goal in the music industry to win a Grammy but you can accomplish so much and never win one. Does not having a Grammy make you less of a person? I wouldn't think so. So, to all of the petty, close-minded "fans" out there, stop attacking people for something they had nothing to do with.
Let me know what you guys thought about the show!