So, I am back with an album review for you guys. This artist that I am going to be talking to you about today brings back some awesome memories for me. I have been listening to them since I was in Junior High/ High School, so the early 2000s. Around this time in my musical life, I was definitely expanding my taste. I was listening to a lot of Rock & Electronic music, along with the R&B I was already listening to.
Listening to these genres as a teenager was more than a phase. They got me through a lot of rough time and helped me embrace my unique-ness. A lot of black kids like myself, at least the ones that I knew, didn't listen to music like that. I was already teased for being different so you can imagine what they thought when they heard what I was listening to. But I didn't care because I loved it and I felt more like ME when I listened to it.
Who Are the Gorillaz?
The Gorillaz are a British virtual band created in 1998 by Damon Albarn and Jamie Hewlett. The band consists of four animated members: 2-D, Murdoc Niccals, Noodle and Russel Hobbs. These members are fictional and are not based on the "real life" musicians involved in this project. We are able to experience this universe that they created through the band's website and music videos, as well as through their short cartoons.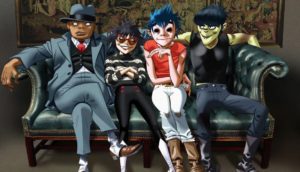 Their music is normally just a series of collaborative tracks with other artists. The music they make has been described as alternative rock, Britpop, trip hop, hip hop, electronica, indie, dub, reggae and pop. That obviously makes their music easy to work with when it comes to working with so many different artists within many different genres. Even with all of those elements, their style is not altered but still sounds like they are creating sounds that have never been heard before. I will always love and respect them so much for that.
You guys should definitely check out some of their other music when you get the chance!
Discography:
Gorillaz (2001)
Demon Days (2005)
Plastic Beach (2010)
The Fall (2010)
My Review of Humanz
Last Friday (April 28th) the Gorillaz dropped their first album in 6 years. The "regular" album has 14 tracks while the Deluxe version has 26 including new interludes and added tracks. As always, they have some of the best collaborations in music. They feature artists from all over the spectrum within the music industry.
The entire album can be easily described as an electric joyride. It's a party album but with political correctness and awareness. Of course we still get that dark side that actually gets a bit darker this time around. A perfect example of this is the song "Saturn Barz" featuring Popcaan. It's such a dark and haunting song but with a super catchy hook.
One of my favorite songs is definitely "Submission" featuring Danny Brown and Kelela. It's a hip dance track with a Pop and R&B vibe to it. The electronic element along with Danny Brown's verse and Kelela's hook just pulls it all together for me. "Andromeda" featuring D.R.A.M. gives me the same feeling but it's a little more upbeat. Songs like this really make me love D.R.A.M. to be honest.
"Busted and Blue" slows things down again with more of a Pop/ Electronic vibe. The best way for me to describe it is a haunting love ballad. The way the lyrics are sung along with the slow melody and dramatic effects in the background give this song its overall character. Now, take that, speed it up, and add Anthony Hamilton to the mix for the song "Carnival".
Then we get a very soulful, up-tempo "Let Me Out" featuring Mavis Staples and Pusha T. Mavis brings the soul and Pusha gives us those raw, real verses. The closer we get to the end of the album, the songs get a little slower and more dramatic. At least until we get to another R&B/ Soul inspired track called "The Apprentice" and a pure dance track in "Out of Body".
My Final Thoughts
Even though this album is super long, it is worth the listen. If you aren't familiar with their music then it may take a few listens to really grasp it. But if you are familiar with them then you pretty much know that it's going to be an awesome listening adventure. They never disappoint and you can expect to be taken to places that you've never been before while listening to music.
There is just something about the overall creative direction of the Gorillaz. So much goes into the making of this music, this other universe. It's fun when you can get such a different experience while just sitting down and listening to music. So if you are in the mood for something different, then you should definitely check out this album.
Comment below and let me know what you think about the Gorillaz, their music, and/ or this new album. Also, if there are any albums or artists that got you through a tough time when you were younger, or even recently 🙂
Until next time, check out their video for "Saturn Barz"…
Follow Them!
Official: www.gorillaz.com
Twitter & Instagram @gorillaz