On Saturday July 23rd I attended Todrick Hall Presents: Straight Outta Oz at the House of Blues in New Orleans 🙂 Straight Outta Oz is basically a Broadway play about Todrick's life, told like the Wizard of Oz. His story is so inspirational and combining it with The Wizard of Oz just made it that much more magical. But this is definitely one of those shows that you should see for yourself because nothing I say will do it the justice it deserves.
I went with my boyfriend and we drove about 2 hours to get to New Orleans. After checking into our hotel and getting ready, we headed to the House of Blues and got in line around 5:30p. They actually let us in a little early which was great. Once inside of course I had to pick up some merchandise. I didn't realize that the merch was only sold on tour so I regret only getting 1 shirt.
While we waited for the show to start, they showed a lot of Todrick's YouTube videos on a screen over the stage which was perfect and everyone was screaming and singing along. The show actually didn't start until around 8:30 but when the show did start and Todrick finally came out, I lost my mind. And I was excited when he did one of my favorite songs "Over the Rainbow". He is just so freakin' cute!
And when Todrick came out with Jay who played Gareth (Todrick's love interest), it was the cutest thing I have ever seen. I love their song they did together called "Color". It's such a beautiful song and they even shared a hot little kiss at the end.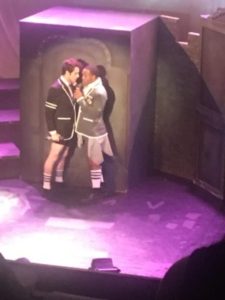 Then there's Chester as Glenn Duh in all of his fabulous-ness. That pink suit and the matching hair. Baby! He is just adorable and his voice is amazing. Love him!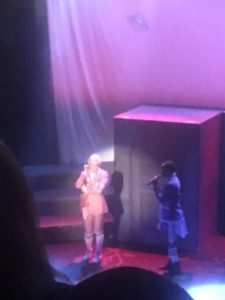 I regret not recording more of the show but I wanted to actually watch the show and enjoy it without my camera. I loved when he came out with those sparkly red Timberlands in "Expensive" and when he came out as a cute scarecrow for "Dumb" and when he came out in a hip version of the tinman for "If I Had a Heart"… Todrick's voice is just so perfect!
I did take a few pictures during his song "Lyin to Myself" where he has this little pimp outfit on to play the lion character. But can we talk about the perfection that is Todrick's boyfriend Jesse?! He's that gorgeous man kneeling right in front of Todrick. I would've loved to meet him but maybe next time.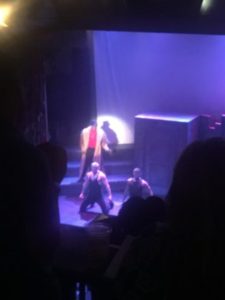 And a HUGE shout out to Teresa who played Todrick's mom. Her vocals were breathtaking and gave me chills. She definitely got a loud standing ovation and lots of screams from our crowd. She is beautiful and was just such a strong presence on that stage.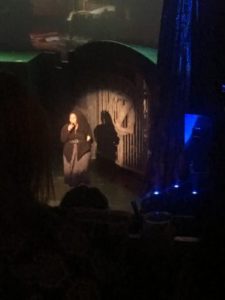 Then of course there's THE SONG "Wrong Bitch" which he originally did with Bob the Drag Queen (from Rupaul's Drag Race) where Todrick comes out in full drag and looks fabulous honey! He killed that song and the dancing. EJ came out to do Bob's part and he is such a cutie. I knew I had to record that performance for sure.
When they got to the song "Water Guns" which originally features Jordin Sparks, they showed a brief video showing all of the recent violence that has been happening in our country. It was such an emotional performance and Judith sang the hell out of that song. She was a part of the "Divas" with Vonzell and Virginia. Those girls were awesome and I loved them so much. So many powerful females in the cast, I love it!
Oh! At one point of the show, Todrick came upstairs (where we were) and ran around. It took a minute for me to realize what was happening but seeing him that close as he ran right in front of me was such a fun moment. We definitely all lost it LOL 🙂
So, to close out the show, he performed a lot of his popular songs from his YouTube videos. Everyone got so hype and it was so much fun to sing and dance along.
None of us wanted the show to be over but I only became more excited because I had VIP and was about to meet Todrick and take a picture with him.
I actually wasn't all that nervous, just excited. Todrick was so sweet and humble; that smile and those eyes though… Precious! We hugged and he told me that my eyes were gorgeous and I melted a little. He thanked me for going and asked if I enjoyed the show and I could hardly put it into words LOL We hugged again and got ready for the picture. I know I didn't want to let him go when it was time to leave. He kind of hesitated to let me go too so that made me feel a little better about all of it.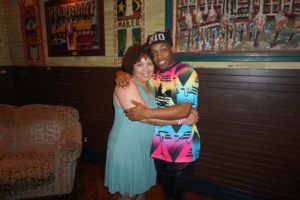 I wish I could've have met some of the other cast members though because they were all so amazing, so shout out to all of you guys: Kylan (the wizard) so amazing and cute! The other talented and lovely ladies Brittanie, Eliza, Megan, Jazlyn (you are a badass mama!), Nina, and Jenni; and I can't forget the other amazing men in the ensemble that I haven't mentioned, Kolin and James… You guys' dancing was off the chain! I appreciate all of you so much and wish I could've met you!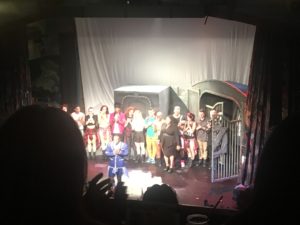 And Todrick, my love, please don't change a thing. Continue being the sweet and beautiful person that you are. I was having a rough few days before the show and you just made all of that disappear. I hope that everyone can see you the way that we do. I LOVE YOU TODDY! 🙂
For those of you who may not know Todrick or any of his amazing cast member, please go to his website www.todrickhall.com for more info and follow them on Twitter and Instagram ASAP! Also the tour is still going on so catch it if you can.