Happy President's Day! I am so happy to be off from work! It also gives me time to recover from the amazing concert I went to last night 🙂
The concert featured "old school" acts, Dru Hill, Doug E. Fresh, and Maze featuring Frankie Beverly.
So, everything started around 7pm, with a local rapper from Lafayette. He was pretty good but you could tell that the crowd wasn't all the way into it due to the age gap. I thought they were pretty good though. It's always nice to see local, young musicians who don't curse every other word and only talk about money, cars, and hoes. You know?
Then the MC came out, she was pretty funny. She brought out Dru Hill first. I was excited to see them, but finally seeing them appear on the stage made me even more excited. 3 out of 4 original members were there (Sisqo, Nokio, and Jazz) along with the newest member Tao. They performed some of their hit songs: "Beauty", These Are the Times", "In My Bed", "Never Make A Promise", "Tell Me", and "We're Not Making Love No More". The guys sounded amazing. I have always been a fan since their first album released back in 1996. Seeing them live for the first time was an awesome experience. I missed out on a chance to meet them but maybe next time 🙂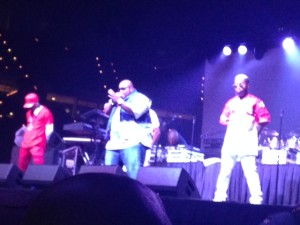 After a little break, Doug E. Fresh "The Original Human Beatbox" came out. It instantly turned into a Throwback party. He really is one of the greatest entertainers. I didn't get his dance on film but I did get his beat-boxing which is just as good, if not better.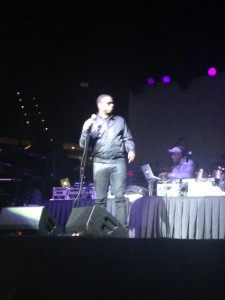 There was another break/intermission before Maze featuring Frankie Beverly came out. Now, for those of you who DO NOT know this, they are legends. They also have a HUGE fan base/ following in Louisiana. Frankie even said that back when they released their first album, they had sold millions of copies here in Louisiana alone so he will forever be grateful for that. Mr. Frankie is 69 years old and BABY, he put on a SHOW! They performed their hits "Southern Girl", "Golden Time of Day", "Running Away", "Joy and Pain", "Before I Let Go", "We Are One", and "Happy Feelins". It was a feeling like nothing else, just to be in their presence. We were not allowed to take any video or audio though, just pictures 🙁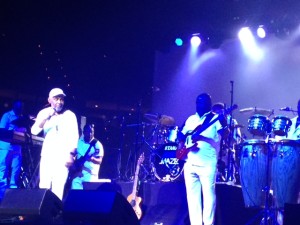 < Check out a couple of the videos on my page: