It looks like we're going a little international with this one 🙂 I mean, it's not often that you receive a message from a German band, who has a new album out. As always, I wanted to make sure that I got this one right, and did the band, and their music justice. With that being said, I am excited to introduce you guys to C for Caroline!
Getting to Know C for Caroline
"C for Caroline" is a Pop-Punk band from Hanover, Germany. They were founded in 2007, and it took them only one year to hit the stage at the major German music festival Rock am Ring in 2008! Channeling fire, fury and crowd energy, that's what brought these guys on the big stage within just one year. And now? Ten years of band history with countless concerts and this flame of passion for their craft keeps rising.
But let's back up a little… After reaching the German semifinal of the Emergenza band contest in 2007, a first demo is recorded in Berlin, sponsored by Volkswagen. Highly motivated by their first achievements, the band seizes this opportunity and transforms it into an unbelievable experience. In 2013 C for Caroline recorded the EP 'Ready to Go', which is digitally distributed by the Berlin label DREIKLANG Music.
The same-named single is released together with the first professional music video. In the following years, the band plays various concerts all over Germany: open-air festivals, small pubs, street music, and big stages – from northern beaches to Bavarian clubs. In 2016 C for Caroline started working on 'Headstrong Heartstrong', the first full-length album of the group. All of those events leading up to the album's official release this year.
Headstrong/Heartstrong… My Review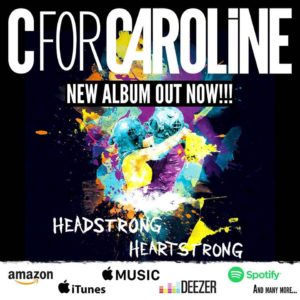 I will start by saying that from the first song, and video that I saw, I automatically thought back to when I was a teenager and was listening to a lot of pop/ punk/ rock bands. C for Caroline almost reminds me of Good Charlotte and some of the other similar bands who were out at the time. And I've always wondered if we would get that sound again, which we have been, but to have a German band make that type of music, is even more awesome.
This album, as a whole, is very impressive. Some of my favorite tracks are: "Break of Dawn", "Be My Caroline", "The Greatest Story (Ever Told)", "Neon", and "Hero of the Day". But I am sure that the more I listen to it, the more those will change, and new favorites will be added. Every song is just so full of energy and keeps your attention from start to finish.
Listening to C for Caroline also makes me think about the Wallows, a band referred to me by a good friend and experienced live recently. I truly hope that C for Caroline are successful here in the US and are able to tour as well. I would love to see that amazing talent and energy live on a stage one day. Something about seeing bands like this live is an experience I think everyone, especially music lovers, should experience.
Check Them Out!
Official: www.cforcaroline.de/
Facebook: www.facebook.com/CforCarolineOfficial/
Instagram @cforcarolineband