Happy Monday! Welcome back for another special MCM aka Music Crush Monday aka Man Crush Monday in this case 🙂 I've wanted to do a post about Bruno Mars for a while now but it just never seemed like a good time. But now with his new album 24K Magic, the single "24K Magic" taking off, the announcement of his 2017 tour, and his amazing recent performances on Saturday Night Live and the American Music Awards, I think it's a perfect time to talk about him.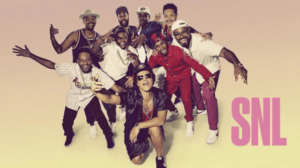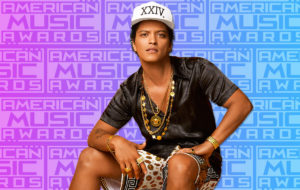 Before I talk about the return of Bruno and his new music, let me just tell you guys how excited I am to see him and hear his voice again. I have been a fan since he first came out and released DooWops and Hooligans back in 2010. And of course I loved Unorthodox Jukebox that was released in 2012. Then there was his performance at the Superbowl a couple of years ago (without Beyonce). In my opinion, that was one of the best half-time performances, next to when Prince performed "Purple Rain" in the rain. But that's a whole other conversation…
Before I really start rambling, let me talk about his new music LOL 🙂
24K Magic… My Review
The first track is "24K" of course so it already gets you up and dancing. Then we go sliding into the song "Chunky" and I promise you it's nowhere near what you guys are probably thinking it's about LOL. It's a very smooth R&B track with Funk vibes for sure. And speaking of Funk, we come to "Perm" which is a straight James Brown inspired track. I can't even begin to explain this song… You just need to listen to it. But he does say "… Throw some perm on yo attitude… Girl you gotta relax…" so, um, yea…
Then we get to my favorites, starting with "That's What I Like" which is a slower R&B vibe but still has a little bounce and snap to it. But he slows things down a bit with "Versace On The Floor" which is a more romantic, baby-making type song. It has such a 80s R&B vibe for me and I love it so much. It definitely has me swaying back and forth and snapping my fingers. Keeping with the slow tempo R&B vibes is "Straight Up & Down" which is similar to the previous track but less of a ballad if that makes sense.
But, I mean, let's keep it real here, Bruno could sing about anything and everything and make it sound sexy… Now to "Calling All My Lovelies" which is still a little slow tempo but not quite a ballad and "Finesse" which brings us back to that classic 80s/90s R&B up tempo type of track. It's definitely one of those fun, feel-good dance songs.
And, unfortunately we are at the end of this album, and he closes it with "Too Good To Say Goodbye" a powerful ballad. Now this one makes you want to pull out a lighter and sway back and forth. It's just such a beautiful song and his voice is so angelic as always. He makes it all sound so effortless.
Final Thoughts!
So, overall I rate this album a 100/10 🙂 It is perfect from start to finish. I have been waiting for this album for a long time and I cannot even begin to tell you how happy I am to finally have some new music from Bruno Mars. I missed his voice and crazy creative visuals for his music videos. He never disappoints and always gives us the music we've been missing.
He will be coming my way to Louisiana in October next year for tour so I hope to get tickets for that. He did come a couple of years ago but I wasn't able to go so I've pretty much been sad since then. But now that he is coming back, I am going to try to do everything I can to make sure I make this one. He promises that it will be the best show ever! And we should believe him 🙂
Until then, please enjoy his video for "24K Magic"
Check Him Out!
Official: www.brunomars.com
Facebook: www.facebook.com/brunomars
Twitter & Instagram @brunomars