Now, I am very excited to talk about this particular topic. If you have been keeping up with me and this blog then you know what I am talking about. But, for those of you who are new, I am talking about Boybands! Being a fan of Boybands is pretty much what started the whole fangirl thing for me…
My fangirl journey started in the late 90s with NSYNC and the Backstreet Boys (I was also a fan of Boyz II Men, New Edition & New Kids on the Block). Many other boybands came out after them including: O-Town, Youngstown, Five, B2K, etc… Many of them are still touring and doing shows now. The Backstreet Boys have been doing cruise ship shows and multiple shows in Las Vegas. Boyz II Men and New Kids on the Block are currently on tour together. O-Town is on a tour too at the moment. (Top: Lft- NSYNC, Rt- Boyz II Men… Bottom: Lft- New Kids on the Block, Rt- Backstreet Boys)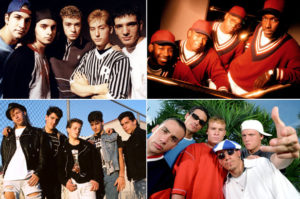 The Next Generation
We did have One Direction for a while and though I did not become a fan until much later in their career, I thought they were great. But, just like many other groups, they took a "break" (aka disbanded), and ended up starting budding solo careers. If they would've stayed together as a band during this time, there's no telling how the Pop/ Boyband game would be. But the way their solo careers are going, I don't see them getting back together any time soon, if at all.
There's still hope for boybands, though. Recently, I was on Facebook and came across this cute little group of guys who did a tribute to boybands. They were amazing and super adorable! Their group is called Next Town Down. The group consists of 5 young men Leon, Malik, Chris, Tre'Von, and Terence. They found each other on social media and took their newly formed group to Los Angeles in hopes of having a better chance at a career in music.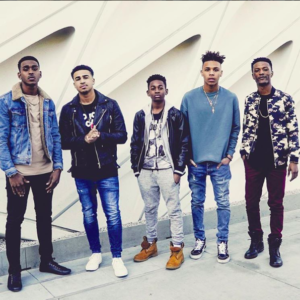 Check out their Evolution of Boybands mashup below…
Official: www.nextowndown.com
Facebook: www.facebook.com/NextTownDown
Twitter & Instagram @nexttowndown
Youtube: www.youtube.com/channel/UC8vjMAViD5Hv0Uxwl5w2oTQ
Boyband the TV Show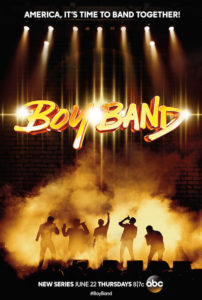 There have been many different tv shows, reality shows, comedy spoof shows about boybands over the years. These shows have definitely contributed to the whole boyband culture. O-Town, One Direction, and Big Time Rush were formed on or for these types of shows. But this time around, we have a full-fledged boyband competition-like reality tv show. The point of this show is to find the "next big boyband" (of course).
The judges for this show are: Nick Carter (Backstreet Boys), Rita Ora (singer/actress), Emma Bunton (Spice Girls), and Timbaland (music super producer, artist). The show is already about 3 episodes in. I need to catch up before the new episode tonight (Thursday). But so far it looks very promising. I am very curious to see how the show turns out and what happens to the guys, winner and losers.
Official: www.disneyabcpress.com/abc/shows/boy-band/
Twitter & Instagram @BoyBandABC
Final Thoughts
One of the main things I hope to see with this possible resurgence of boybands is that they are able to be taken seriously this time around. For YEARS, they were looked at as manufactured groups with no talent who were singing music that everyone else wrote for them. Yes, there were some bands like that but many of them were actually genuinely talented. Many of them, sang, danced, and wrote their own music.
The stigma put on boybands hasn't changed much. Some of the guys who went solo after leaving their respective bands were somewhat able to show that the talent was always there. I just always thought that it wasn't fair to a lot of them to be put down so much because they chose that particular route to get their chance at a music career. Would you turn a huge opportunity like that down if it meant at least getting your foot in the door and a shot at your dream?
Let me know what you guys think!