This is an album I didn't expect to listen to and love as much as I do. I had heard of Boogie for a while but never really looked into his music much. Then I find out via social media that he is a favorite of a lot of my favorite artists so that made me curious. They all praised this new album Everything's For Sale, especially the content of this album.
Boogie is a Hip-Hop artist out of Compton, California. Apparently, he is known for his ability to include real-life experiences in his music. His debut mixtape, Thirst 48, was released back in 2014, followed by his next mixtape, The Reach a year later. The following year, in 2016, he released a third mixtape Thirst 48, Pt. II and was signed to Shady Records/Interscope in 2017. 
My Thoughts on Everything's For Sale …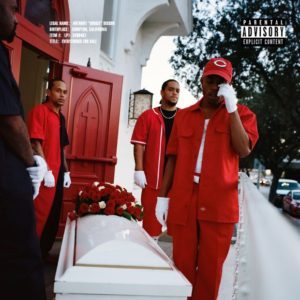 It's difficult not to have this album on replay. Boogie most definitely raps about regular, everyday growing pains when it comes to life, love, loss, and everything in between. He speaks about the things that are sometimes hard to talk about or truths about ourselves that we don't want to admit to. It's like you don't want to hear it but you want to listen to Boogie talk about it if that makes sense…
Boogie also has some notable features on this album. He has JID on "Soho", Eminem on "Rainy Days", and 6lack on "Skydive II". The songs "Rainy Days" and "Skydive II" actually remind me of Bas and his style of singing on hooks, which I love. And I've been seeing some articles about Eminem getting roasted for his line about a shepherd having sex with sheep. I mean, the line is a bit corny but I don't think that it takes away from the rest of his verse or needs more attention than the album.
* For my post on JID's last album Dicaprio 2, check it out here … As well as my review of his fellow Dreamville peer Bas' Milky Way here *
Peep his video for one of my favorite tracks "Silent Ride" below…
Check Him Out!
Twitter & Instagram @WS_Boogie