On Sunday, August 30th, the 37th edition of the MTV Video Music Awards took place, live from New York City. This "quarantine" edition of the annual celebration of musical artists from the year was hosted by the amazing and multi-faceted Keke Palmer. I went into this looking forward to how they were actually going to make this show happen as well as watching BTS perform. But, here is my recap and thoughts of the show…
The MTV Video Music Awards
The very first thing that we see on screen when the show starts is Keke speaking on the devastating loss of Chadwick Boseman, who loss his battle to colon cancer on Friday (August 28th). This year's awards' show would be dedicated to him and the effect he had on so many of us. Thoughts of Chadwick, as well as supporting #BlackLivesMatter throughout the show. The violent and senseless killing of Jacob Blake in Kenosha, Wisconsin by police officers has only fueled the fire of this movement.
Favorite Moments!
Let me just start with the fact that Keke Palmer has made MTV VMA history as the first Black woman in HISTORY to host the VMAs all by herself (Affinity magazine via Twitter). And I also want to mention how amazing Chloe and Halle were for the pre-show. We need them main stage next time, though. Now on to the other performances… The first one that I really enjoyed was Maluma's stage. He performed from Brooklyn in front of a drive-in concert style audience and he was AMAZING as always! (photos via PopSugar & E-Online)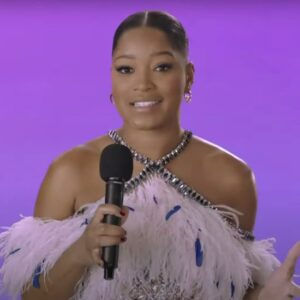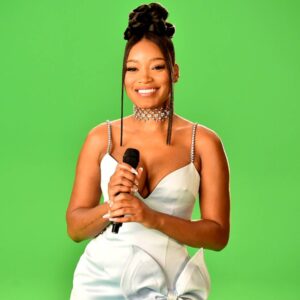 My next favorite performance was BTS', of course. This was their first VMA performance and first live performance of their new English language single "Dynamite". Watching them perform this was so much better than watching the video, for me, and seemed so much more natural. They looked amazing and even took away 4 of 4 moon men in the categories that they were nominated in…
I also enjoyed Lady Gaga and Ariana Grande's performance. Gaga won 5 awards for the night, including the first ever MTV TriCon award, recognizing her impact as an artist and activist for LGBTQ+ rights, human rights, and mental illness awareness. CNCO's performance was another one that stuck out to me, since they are one boyband that I haven't checked out yet. They really are cute, though, and apparently represent 5 different countries, but I'll definitely have to check them out.
Not-So Favorite Moments
I am still not completely sure how they did the audience, other than the Zoom thing but the random cheers were a little off and irritating. But I guess it was still pretty accurate, especially when the cheers overpowered Keke when she was speaking. Performance-wise, I was not a fan of the DaBaby, but loved seeing the Jabbawockeez, though. Also, I didn't enjoy Miley Cyrus' performance, but I wouldn't expect to, anyway, so *shrugs*
More of the Winners' List
Best Collaboration: Lady Gaga and Ariana Grande "Rain on Me"
Best Direction: Taylor Swift
Best Latin: Maluma (first VMA)
Song of the Year: Lady Gaga and Ariana Grande "Rain on Me"
Best Music Video from Home: Ariana Grande and Justin Bieber "Stuck with You"
Best R&B: The Weeknd "Blinding Lights"
Artist of the Year: Lady Gaga
Video for Good: HER "I Can't Breathe"
MTV First ever Tri Con Award given to Lady Gaga
Best Hip Hop: Megan thee Stallion
Best Alternative: Machine Gun Kelly
Push Best New Artist: Doja Cat
More about the awards' show and the other winners at VMA.MTV.com
Rest in Power Black King #WakandaForever